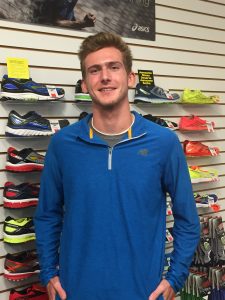 Employee since: 2015
Position: Sports Specialist
High School: North Andover High School
PR's:
Long Jump: 18'1"
Triple Jump: 36'11"
110 Hurdles: 18.23
Connor began working at Whirlaway in the Spring of 2015 while attending North Andover High School. Connor knew after his first outdoor track practice in his Sophomore year that he had found a new passion. Being a member of the 2015 Division 2 State Championship winning team was a great experience for Connor and he feels that being a track athlete will help him succeed in many aspects of life. In his free time, Connor enjoys fishing, going to the beach and playing basketball.