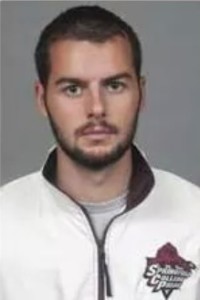 Employee since: 2014
Position: Sports Specialist
High School: Methuen High School (2010)
College: Springfield College (2014)
PR's:
Mile – 4:36
2 Mile – 9:57
5K – 16:37
3K Steeple – 10:25
8K – 27:27
Education: Corey received his bachelor's degree in Exercise Science and Sports Studies at Springfield College in 2014. He is currently working towards completing his Master's Degree in Sports Psychology, also at Springfield College.
Corey started his running career in the fall of 2006 at Methuen High School. Over the next four years he became a three time Massachusetts State Meet qualifier in the 2-mile , as well as receiving two MVC Cross Country All State awards; all while helping bring the Rangers to a record 2nd place finish at the 2009 MIAA All State Cross Country Championship. During his time at Springfield College, he was a standout student athlete leading Springfield Cross Country to back-to –back Academic Team All American honors.
His education at Springfield taught him the inner workings of Anatomy, Physiology and Biomechanics. The majority of his studies revolved around the human body during athletics and exercise. Corey aspires to use his education to become a professional Strength and Conditioning Coach.