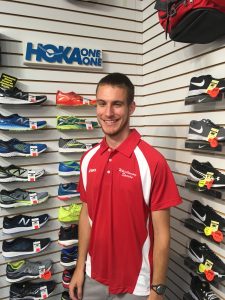 Employee since: 2017
Position: Sports Specialist
High School: Tewksbury Memorial High School (2013)
College: University of Massachusetts Amherst – Chemical Engineering (2017)
University of Massachusetts Lowell – Pharmaceutical Sciences (2019
PRs:
800m 1:52
1000m 2:27
Mile 4:07
3000m 8:35
5000m 15:11
Cory began his running career at Tewksbury High School where he was the captain of the cross country, and track teams his senior year. He led his team to a first ever Division 3 State Cross Country Championship in 2012, and still holds the school record in the mile (4:22), the sprint medley, and distance medley relays.
Cory continued his running career at UMass Amherst under Coach O'Brien where he was 2x All-Conference, 4x All-New England, and 2x All-IC4A. He was recognized as the UMass Athletics Winter Scholar-Athlete of the Year and UMass Athletics Inspirational Athlete of the Year during his senior year. He plans finish his athletic career under Coach Gardner at UMass Lowell as a graduate student.
Cory became a Whirlaway patron since he was little, when his dad would bring him in shopping for new running shoes. He is excited to join the Whirlaway team, where he can help others find their passion for running, as Whirlaway did for him all those years ago.