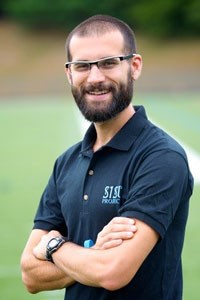 Name: Ian Wright
Employee Since: 2013
Position: Sports Specialist
High School: Colonie Central High School
College: Sringfield College
PRs: 400m -52.8, 800m – 2:00.9, Mile 4:12.2, 8000m -26:45, Half Marathon – 1:15:47, Marathon – 2:51:53
Ian earned his Bachelor Degree in Applied Exercise Science from Springfield College working with Obese and Diabetic Adolescents at Baystate Hospital. With a Health Fitness Specialist Certification from American College of Sports Medicine (ACSM-HFS) he is able to assist those with medically controlled diseases and health conditions (obesity, diabetes, coronary disease), as well as apparently healthy clients, in adopting and maintaining healthy lifestyle behaviors.
Ian has 13 years of running experience as a high school, collegiate, and post collegiate athlete competing in cross country, track and field, road racing, and trail racing as well as 2 years of high school track and cross country coaching.
Having been employed the last 6 years as a Running Specialist at Whirlaway Sports, Playmakers Inc, and Fast Feet Inc. Ian has gained the experience needed to help with all your shoe fitting needs.