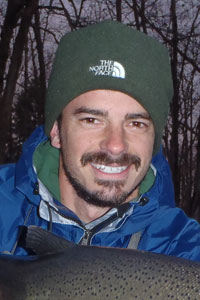 Employee since: 1998
Position: Sports Specialist
High School: Methuen High
College: University of Massachusetts – Lowell
PRs:
800 1:52.85
1000 2:26.10
1500 3:48.97
Mile 4:07.26
3000 8:34
3000 Steeplechase 9:14.31
5000 14:51
10000 31:28
Marathon 2:34:21
Present: Methuen High School Assistant XC/Track Coach and Math Teacher
Kevin has been a huge asset to the Merrimack Valley Running Community for years and will continue to be for many years to come. His great customer service and easy smile are a pleasure to experience.
Kevin has insurmountable knowledge when it comes to running and training. Whether you are a new to running or a veteran, Kevin is your go to guy to guide you on your running journey.
Kevin serves as an assistant cross country and track coach at Methuen high school and is a member of the Whirlaway racing team. Kevin is an accomplished runner and has proven himself at the high school, collegiate and open levels of competition.