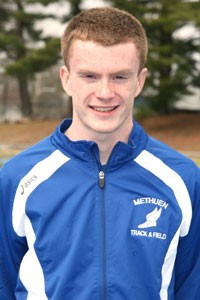 Employee since: 2011
Position: Sports Specialist
High School: Methuen High School (2013)
College: UConn
PRs:
800m 1:53
1000m 2:27.22
Mile 4:05.55
2 mile 9:26.76
5K (Cross Country) 15:27
Michael began working at the Whirlaway while still at Methuen High School. He was urged to join the track team by his Math teacher and Whirlaway staff member, Kevin Alliette.
Michael has won 5 individual MVS Championships and was the Division 1 Eastern Mass Cross Country Champion. He is the course record holder at the state championship course in Wrentham (15:27). He also is the 2013 indoor mile State Champion.
In his free time, Michael enjoys playing pick-up basketball and hanging out with friends. Michael is currently attending and competing for the University of Connecticut.