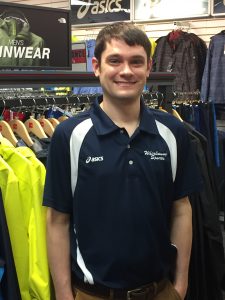 Employee since: 2004
Position: Sports Specialist
High School: Methuen High School
College: Attending University of Massachusetts Lowell
Ryan is a veteran member of the Whirlaway Sports staff. He started work at the store as a high school student in the summer of 2004. With a wealth of knowledge and passion for the sport of running, he enjoys servicing all of Whirlaway's customer's. Ryan boasts extensive knowledge of footwear and apparel technologies and trends.
Ryan was an avid soccer and baseball player growing up, he was introduced to the sport of running as a freshman at Methuen High School and was hooked instantly. He was a three time member of the Rangers MVC Conference championship teams in cross country and a senior captain of the indoor and outdoor track squads.
As a member of the New England College cross country team, he was the first runner in school history to earn All-Conference honors.
Ryan also enjoys gardening and hanging out with his friends.