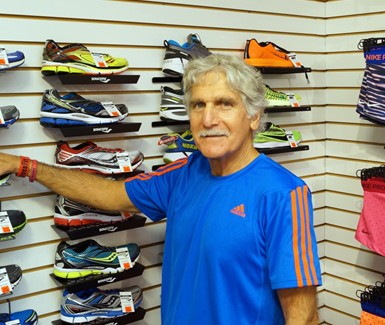 Employee since: 2001
Position: Sports Specialist
College: Fairmont State University, BA in Education
Attended the University of Notre Dame, Scholarship in football
PRs: Boston Marathon (numerous of times) 2:47
Sam has had impressive careers both professionally and athletically. He was a two sport athlete at Fairmont State, playing both football and baseball. While there he became an NAIA All-American in football two years in a row. Sam also won the NAIA National Championship his Junior and Senior year.
After graduation, he moved to the New England area and worked in the high-tech manufacturing industry as supervisor and production manager for numerous companies. Sam taught two years of Printed circuit technology at Northern Essex Community College. After 20+ years in manufacturing, he entered the retail business and worked 7 years at Athlete's Corner in Andover.
Sam enjoys meeting customers and performs gait analysis to make sure each customer is fitted into the correct shoe. We are very proud to have Sam on our team. His experience, wisdom and knowledge make him one of our most requested sports specialist at Whirlaway.
Sam enjoys biking, hiking, cooking and spending time with his three grandchildren.